Posted by Alex Salehi on 21 June 2016 08:55 PM
This page describes how to call anyone in the company, even if you do not know their extension number.
Overview
The condition to calling any extension that belongs to the company even if you don't know their number is that the extension in question is registered to the company directory.
Set up directory
Following the steps below, you can register your extension in the company's directory from the iTeraTEL web interface:
After choosing the extension you want to add to the company directory, access the

Phone Terminal Setup

icon in the extension's management page.
In the Set Up Phone Terminal <extension_label> page, scroll down to the Voicemail section.

Select the Add extension to company directory checkbox to register the extension to the company's directory.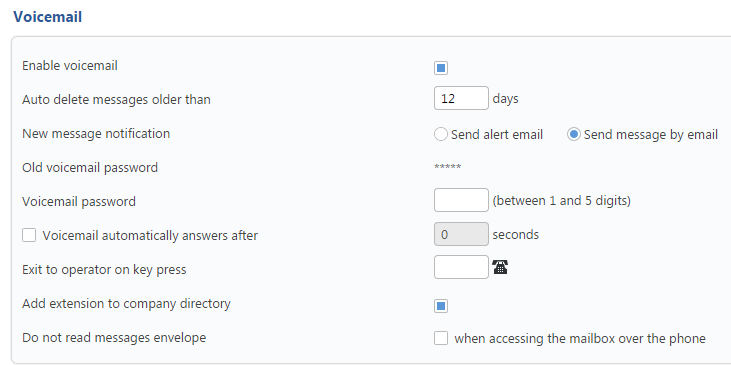 Screenshot: The Voicemail section of the Phone Terminal Setup page
For more information on these settings, visit the Phone Terminal Voicemail area.
Interrogate company directory
To access the company directory, dial *22 from your extension keypad. You are asked for name of the person you are searching for.
A list of users matching your request and their extensions is played:
If the first played user and extension are what you were looking for, you can dial 1 on your keypad and you are redirected to the user's extension.
If you want to keep searching for a user, press * and the next match will be played.
Please note that, if the person you wish to contact did not want to be featured in the Company directory, you will not be able to find it in the directory.
Also, it is recommended for users to register only one extension in the company directory, i.e. the extension they wish to be contacted on.
---